Global Platform Gambia Observes Global Week of Climate Actions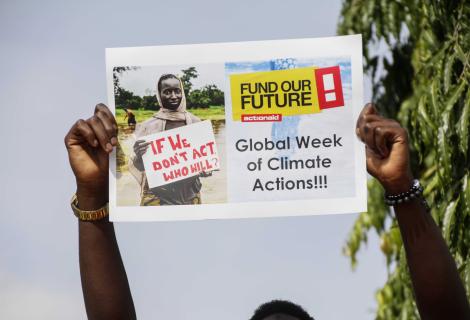 #EndFossilFuels
Global Platform Gambia Observes  Global Week of Climate Actions
Close to eighty Global Platform volunteers from West Coast Region, the Kanifing Municipality and Banjul, joined by other youth organisations, organized a symposium on Climate Justice as part of the activities of the Global Week of Climate Justice.
Delivering a solidarity message, the Deputy Permanent Secretary and Climate Change Focal person at the Ministry of Environment, Climate Change and Natural Resources, Mr. Bubacarr Zaidi Jallow said that women and youth are very important in the fight against climate change because they are the most vulnerable. Jallow recognized the work of ActionAid and said that the organization is sensitizing people to the impact of climate change.
Mrs. Amie Jobe, ActionAid The Gambia's Head of HROD and Admin spoke on behalf of the Executive Director. In her speech, Mrs. Jobe said that ActionAid is committed to fighting against climate change. Mrs. Jobe delved into the theme: 'Ending Fossil Fuel' and said that there is the need to shift funding from fossil fuel and industrialized agriculture to funding renewable energy and agroecology. She said that countries like The Gambia are more of a consumer than producer of fossil fuel, and Africa as a continent is only responsible for 2 to 3% of the world's carbon dioxide emissions from energy and industrial sources.
"Our most immediate problem right now is agriculture, the production of food. In essence, our fight to end fossil fuel must go hand in hand with our strive for food security because we cannot afford to do one without the other," said Mrs. Jobe.
She concludes that ActionAid International The Gambia and it's esteem partners like the EU and FAO continue to support vulnerable farmers especially women, to improve their adaptation capacities by promoting sustainable agriculture and livelihoods diversification.
 
Saikou Darboe, GP Gambia Project Coordinator, gave a background on the Global Platforms and their role in advocating for climate justice. Darboe stated that ActionAid's work is centered around human rights-based approach. Thus, the organisation is demanding climate justice from those responsible.
Fatoumtta Kebbeh recited a poem on the environment and poverty, addressing the gap that exist between the rich and the poor.
The event was proceeded by a procession from the Youth Monument at West to Alliance Françoise and ended with a panel discussion on the theme.