'Kanyeleng' Against Climate Change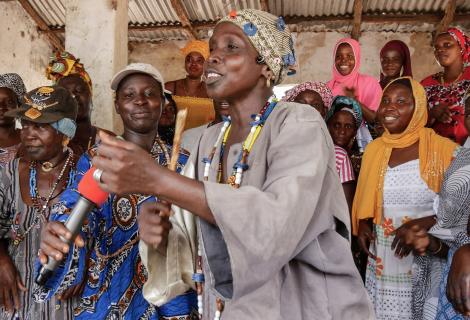 'KANYELENG' AGAINST CLIMATE CHANGE
By ML Touray
Kanyeleng' or traditional communicators play important roles in Gambian society, not just as entertainers with their comic songs, but they also disseminate important information on different issues. ActionAid International The Gambia has been engaging traditional communicators in the LRPs to sensitize communities to the impact of climate change. 
Rohey Sanneh, a farmer and a traditional communicator living in Niamina Sambang Village in CRR South, is part of the group of 'Kanyeleng' engaged by ActionAid to tour different communities in Niamina East to disseminate climate change messages and Climate Resilient Sustainable Agricultural (CRSA) practices.
"Being a 'Kanyeleng' is good in our society because we spread important information. There are those who believe that the roles of 'Kanyeleng' are specifically assigned to barren women. On the contrary, being a kanyeleng is all about having the zeal to communicate in an effective and entertaining manner, to draw people's attention. Sometimes people regard us as buffoons, and they laugh at us. We are not fools. We only dress in a funny way to get people's attention. We entertain them, and then we spread messages that makes people interested and change for better" said Rohey.
Rohey and other members of her 'Kanyeleng' group were trained by ActionAid on climate change message development and dissemination. Rohey continues: "we take the information and the messages we have learnt on climate change and compose them into songs. When you come out to talk to people directly, sometimes they lose concentration. But when you put it into songs, they have more interest and start listening. We often tell community members that some of the people in our communities are also contributing to climate change because they are engaged in cutting down of trees, which has affected the rainfall pattern. When you cut down a tree, you should plant another one. Where there are many trees, there is more rainfall. Therefore, we must desist from cutting down of trees". 
The issue of youth irregular migration and climate change was outstanding during the community sensitization with the 'Kanyeleng'. Members of various communities attributed irregular migration to unemployment and lack of decent skills. Rohey further said: "Climate change has affected the progress and development of young people. Many years ago, when you cultivate on a small plot of land, you would get bumper harvest. But now when you cultivate on a vast area of land, you harvest very little. Many young people have lost hope in farming because they are not realizing anything from it. That is why youth risk their lives in the 'backway' (irregular migration) for a better future". 
Jabou Ceesay, also a farmer, businesswoman and a traditional communicator from Sinchu Alagie village, said: "After receiving training from ActionAid on climate change messages, we composed them into songs and every three months, we go to different communities to spread these messages in the form of entertainment, drumming, singing, and dancing. This attracts people to come out in large numbers. Then we talk to them about climate change and what we should do to reduce its impact". 
According to Jabou, Kanyeleng' also communicate to people in their songs to stop using chemical fertilizer and use compost, and change the way and manner in which they clear their farmlands. 
"We often tell farmers in our songs that the way some of them clear their farmlands is affecting the soil fertility. When they clear their farms, they should not burn the grass. Instead, they should allow it to decompose on its own. That helps to boost the soil fertility. We also emphasized the importance of trees in our environment. During heavy windstorms they serve as windbreakers. Therefore, we must plant trees to save our environment" said Jabou.
Fanta Kura Mbye, also of Sinchu Alagie village said: "We have included in our 'Kanyeleng' songs that farmers should diversify their farming practices by cultivating early maturing crop varieties like groundnuts, cowpea and maize. These early maturing crops can be cultivated on one farm. When we sing these messages, children easily memorize them and would be constantly singing them. The elders admit that when they listen to children singing these 'Kanyeleng' songs, it constantly reminds them about the important messages".
Fanta Kura further states that: sand mining in their communities and close to their farmlands is causing serious erosion. 
"We must accept that there is climate change, and we have to change along with it, plant trees, and cultivate early maturing seeds varieties that germinate quickly," said Fanta.