ActionAid Supports Flashflood Victims with Cash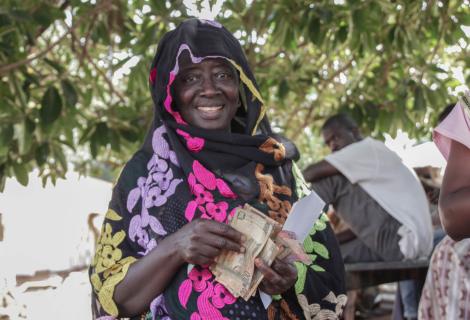 ActionAid Supports Flashflood Victims with Cash
The National Disaster Management Agency (NDMA) Situational Report of July 31st 2022, stated that over 40,000 people were affected countrywide by the torrential downpour of rain, resulting in severe flashfloods. The report further stated that this year's floods are the worst ever recorded that have hit The Gambia in nearly half a century.
The flashfloods left some families homeless, foodstuff and property damaged.
ActionAid International The Gambia in partnership with the National Disaster Management Agency, embarked on cash distributing to 176 households from 31 villages in North Bank Region, to support victims of the flashfloods.
According to Lamin Saidy, NDMA Regional Disaster Coordinator for North Bank Region, NDMA took the lead in the assessment and data verification of affected households and the scope of the damage. "We commend ActionAid for this move to provide cash to affected households. The money is meant for them to buy rice and cooking oil. However, government is also mobilizing resources to provide support for shelter".
Saikou Bah, Programme and Sponsorship Coordinator for ActionAid's Local Rights Programme (LRP) 9 in Niumi, said that following the flashfloods of July this year, the LRP office saw the need to support affected communities. "Since the LRP office has an emergency funds, we decided to work with NDMA to support victims of the flashfloods. Each beneficiary will receive an amount of D2,300 to buy some food items" said Mr. Bah.
Musa Dumbuya, one of the beneficiaries of the cash support said that as a farmer, he cultivated groundnuts and millet, but all his harvest was affected by the flood. Dumbuya, who is married with two wives and eight children said, "There was a heavy downpour of rain in the night. After some time, I heard a loud noise. When I checked, one part of my other house where my children were living, had collapsed. I rushed to evacuate them".
Dumbuya said his sheep, a bag of rice, a bag of millet and kitchen were all destroyed by the flood. Since that time to date, he has been laying bricks to earn a living. "I thank ActionAid for the support. The money I received will serve me for a month". However, I need more support to rebuild my house. Right now, I'm living in one house with all my wives and children". Said Dumbuya.
Ramata Ann, a widow from Kerr Sidiki Village lives in a mud house with her nine daughters. She said: "There are cracks on the wall of my house and I decided to take some logs to support it. When the rain started, water was passing through the crack wall, so I stuck some pieces of cloth in the cracks, but it didn't help much". Ramata said that her house was flooded including her animal shed and she lost some of her livestock and some food items.
"I received D2,300 and I could not use it to repair my house because it will not be enough. So, I'm going to buy rice and other food items for my family". Said Ramata.
Wuri Sowe of Kerr Sidiki village said: "When one part of the wall of my house collapsed, I rushed to my oldest son's house with my other children. Our mattresses and food stock were all soaked in the water, and our toilet (pit latrine) also collapsed".
Wuri expressed appreciation for the support and also said: "When I was going to collect the money, I was not having any money for my family's daily sustenance. Therefore, I will use it to buy rice and cooking oil to feed my family. However, I will need support to rebuild my house so that I can move back to my own house before my son comes back from Kombo".
Fatou Bah from Kerr Werico village said when her house collapsed, neighbours helped to mount a tent for her as a temporal shelter till after the rainy season. She said: "My husband's income could not suffice all our needs so I was also going to the bush picking some leftover charcoals and selling it so that I can contribute to the upkeep of my family, and also provide lunch for my children when they are going to school. So today I'm so happy to receive this cash support".
Momodou Jallow, also from Kerr Werico village, lives in a mud house with his family. He was trying to build a cement house. He bought some bags of cement and contracted a mason to start the construction, but the mason did not show up. Jallow said: "There was heavy rainfall in the night around 9pm. My house and the kitchen collapsed. My family and I sought refuge in another compound. My bag of rice and the bags of cement were all destroyed by the flood. I received D2300 and I will use that money to buy rice".
Almost all the beneficiaries have the same or similar experience. Their houses collapsed and food stuff destroyed by the flood. Wiles they appreciate the support to buy food items, most of them are faced with the dilemma of how to rebuild their collapsed houses and live comfortably with their families.