AAITG New Executive Director on a Familiarization Tour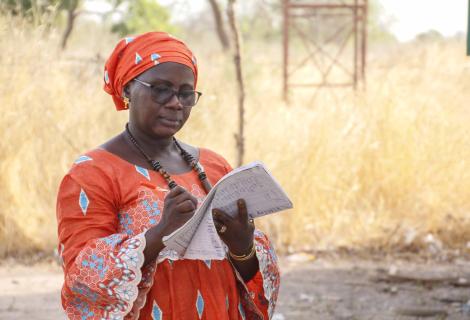 AAITG New Executive Director on a Familiarization Tour to the LRPs
Group photo AAITG staff, members of the Ecozones in LRP 9 and partners
AAITG new Executive Director, Mrs. Ndella Faye Colley, embarked on a familiarization tour to ActionAid's Local Rights Programmes (LRPs) and offices of the regional governors in North Bank Region and the southern part of Central River Region, where the LRPs are operating.
The delegation include Mr. Omar Badji, the outgoing Executive Director, Mr. Fafa Cham, AAITG Head of Programmes and Policy, and ML Touray, AAITG Communications Manager.
Visit to LRP 9 Office in Juffureh
Speaking at the meeting held at ActionAid's LRP 9 Office in Juffureh at the presence of the LRP staff, Eco-zone members and other partners, Mr. Omar Badji, the outgoing Executive Director said that he has come to the end of his tenure of office as Director of ActionAid. He said that the purpose of the visit was to introduce the new Executive Director to all staff, ecozone members and partners. He urged all of them to give the new Director all the support she needs to push the organisation forward.  
Mrs. Ndella Faye Colley thanked Mr. Badji for his dedicated service to ActionAid for more than three decades. She encouraged both staff and partners to continue working together to deliver to expectation. She also stated that she was once the Fundraising Manager in ActionAid and the Head of Sponsorship. Therefore, she understands Child Sponsorship work, and would do anything to ensure that it continues smoothly.
Cherno Saidy the President of Jimbana Bolong Ecozone commended Mr. Badji for his hard work in LRP 9.
He said: "About four years ago, the LRP was covering only 33 communities in Upper Niumi District. But today, all the 50 communities are covered. Thanks to the hard work of Mr. Badji".
Cherno welcomed the new director and appealed to her to continue supporting and motivating the field staff so that the work in the LRP can progress smoothly without hinderance.
Visit to the Office of the Governor of North Bank Region
Group photo  of AAITG delegation and staff of the office of the Governor of North Bank Region
 
The delegation of the new Executive Director were received at the Office of the Governor of North Bank Region by the Deputy Governor, Dembo Samateh. DG Samateh acknowledged the work that ActionAid is doing in the region, which has positive impact on the lives of the people of NBR.
The visiting team also had a brief stopover At Mansa Wally Lodge in Lower River Region where the recently launched Global Platforms - Gambia volunteers are currently attending a capacity building training on campaign, advocacy and fundraising.
(L-R) Mr. Fafa O. Cham, Mr. Omar Badji and Mrs. Ndella Faye Colley
 
Addressing the participants, Mr. Badji congratulated participants and encouraged them to get the prerequisite knowledge and skills to take over any leadership position.
"We are not asking you to go out there to fight or insult people, but to hold our duty bearers accountable, so that they do what they are supposed to do" said Mr. Badji.
Fafa Cham said that the youth constitute more than 60% of the population of the Gambia. With discipline and perseverance, they can achieve their goals. He urged participants to be considerate when doing campaign and advocacy.
"Sometimes people think that activism is about radicalism, but the best activist is the best lobbyist. If we want to be successful with our climate justice, good governance and social justice advocacy and campaign, we have to be good lobbyists and communicators" said Fafa.
Participants of the GP-Gambia capacity building training
Ansumana Camara, the national coordinator of Activista The Gambia thanked the outgoing director for playing a fatherly figure role to Activista since its inception. Camara said Activista can never tell its success stories without giving credit to ActionAid. According to him, he is the only certified Global Platforms trainer, and that was possible because ActionAid facilitated his training in Kenya.
Speaking to the participants, Mrs. Ndella Faye Colley said that gone are the days when people say that young people are the leaders of tomorrow. She said that they should start thinking and acting like leaders of today so that tomorrow when they reach that level, it will be easy for them to deliver.
"It is good to advocate for rights, but it is also important to know that rights goes with responsibilities. In the Gambia, we are blessed with the human resource and the bulk of it is with young people. We should work together, deliver, and produce more results so that the generation coming tomorrow will not suffer" said Madam Faye Colley.
Ndella also stated that she is looking forward to seeing more girls participating in such empowerment trainings. She said that women's roles should go beyond household chores. ActionAid has been empowering women to excel, and that includes advocating for their inclusion in District Tribunals.
"I am hoping to see some of the female participants of this training contest for other leadership and political positions" she concludes.
Visit to Dalaba CRSA Demonstration Farm
AAITG delegation and Sainey Sissoho (2nd from left) one of the lead trainers at the CRSA Demonstration Farm
The delegation visited ActionAid's CRSA demonstration farm in Dalaba, CRR South, where over 20 young people are currently being trained on agriculture, small ruminant, and poultry production, under the protective services and economic alternatives to potential youth and migrants project, funded by the Corti Foundation in Italy, in partnership with ActionAid Italy.
The project is intended to halt both rural-urban and irregular migration among young people, improve access to alternative incomes and raise awareness on migration-related risks via the Mediterranean Sea.
Courtesy call to the Office of the Governor of CRR
Representing the Governor of CRR, the Deputy Governor Mr. Sainey Mbye received AAITG delegation. Like other places, Mr. Omar Badji introduced Mrs. Ndella Faye Colley to the Deputy Governor. He appealed for the usual cooperation that the office of the Governor had accorded to ActionAid during his tenure of office, to continue with the new Director.
Meeting at the Governor's office
Badji also made it clear that ActionAid is a non-partisan organisation, whose mandate is to serve people living in poverty without any bias.
On her own part, Mrs. Faye Colley stressed that ActionAid will continue to collaborate with the Governor's Office to serve the people regardless of their religious or political affiliation.
Deputy Governor Mbye thanked ActionAid delegation for the visit and said that ActionAid Gambia is a household name and there is no need to inform people what ActionAid has been doing in the country since its establishment.
(Left) Mr. Sainey Mbye, Deputy Governor of CRR
"ActionAid is complementing government's development efforts, and your contribution to the development of this country speak for itself. One current example is the support that you have given to the women of CRR to involve in poultry production. I therefore encourage the new Executive Director to continue that same trend," said Mr. Mbye.
DG Mbye concludes that in development work there are always challenges and sometimes people misunderstand ActionAid's work, but that should not swerve the organisation from serving the people.
Visit to Sinchu Gundo Women's Vegetable Garden
Sinchu Gundo Women's Vegetable Garden
Madam Faye Colley's delegation also visited Sinchu Gundo and Kumbaney Women's Vegetable Gardens, both of which were supported by ActionAid with a fence, borehole, waiting shed and toilet facilities since 2013 during the implementation of the EU-funded Project on 'Promoting Women's Socio-economic Rights'.
The support to both gardens continued with the implementation of other EU-funded projects - 'Strengthening Women's Economic Initiatives' and 'Citizens Actions towards a Green Economy'.
Kumbaney Women's Vegetable Garden
Meeting with LRP 8 and 11 staff, Apexes and other partners
Meeting with LRP 8 & 11 staff, members of the Apexes and other partners
Mrs. Ndella Faye Colley concludes her familiarization tour with a meeting at ActionAid's LRP 8 & 11 office in Kudang with the staff, members of different apexes and partners.
Alhaji Saikou Touray, the President of Kudang Apex stated that Mr. Omar Badji is a very humble and open-minded person, and that has made people get so close to him. Touray promised the new Director that all the apexes will continue to work hard with ActionAid
Demba Sallah, the President of Yiriwa Apex, said that there is no household in all the Niamina Districts, who have not benefited from ActionAid, either directly or indirectly.
"The demonstration farm in Dalaba is helping our children to learn skills. ActionAid is the people's organisation, and we will not allow anyone to tarnish its reputation" said Demba.
Mrs. Faye Colley stated that she has a heavy load to carry but with support and commitment from all AAITG staff and partners, she will be able to deliver her task effectively.
---